The Ultimate Guide to Partnering with Brands and Making Money Online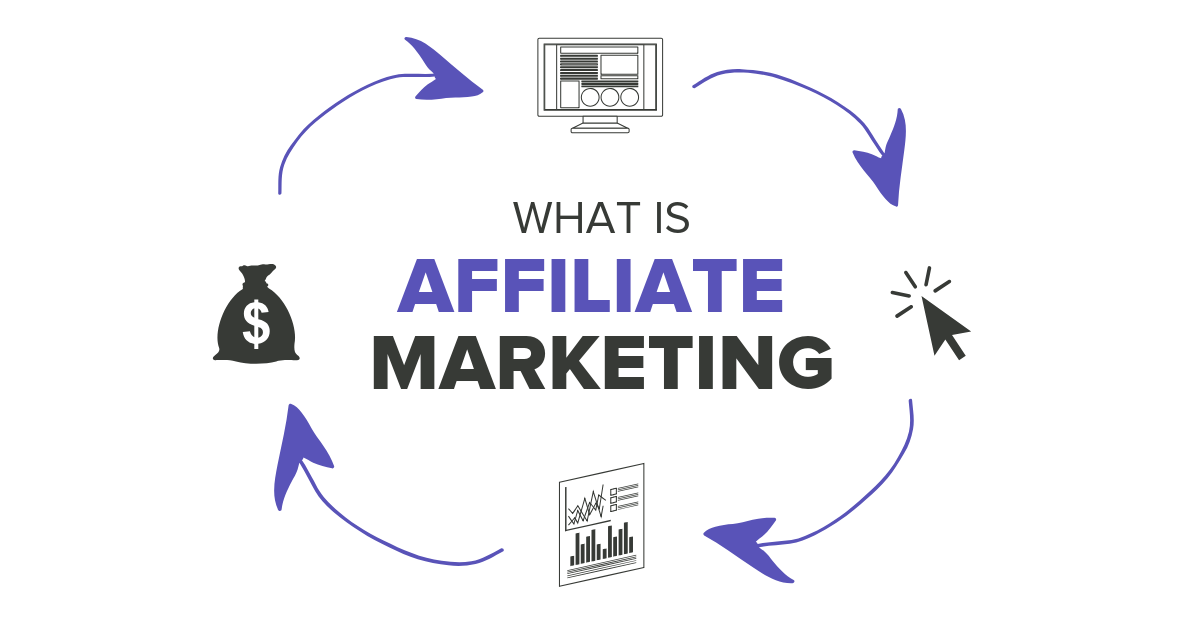 Affiliate marketing provides a win-win opportunity for both brands and publishers. As an affiliate marketer, you can partner with brands and earn commissions by promoting their products. With the rise of influencers and social media, affiliate marketing presents a lucrative income stream without needing to create your own products.
This comprehensive guide will teach you everything you need to know about affiliate marketing, how it works, and how to succeed as an affiliate:
What is Affiliate Marketing?
Affiliate marketing is a performance-based marketing model where businesses reward affiliate marketers for generating leads and sales. The publisher/affiliate promotes the merchant's products in various ways and earns a commission when the referral converts into a sale.
In essence, affiliate marketing allows you to earn commissions by recommending products and services to your audience. You get rewarded for every customer you refer to the merchant through your unique affiliate link.
The typical affiliate marketing process works like this:
A merchant provides a unique referral link to each affiliate marketer.
The affiliate publishes promotional content, places ads, or shares the affiliate link to refer customers to the merchant's website.
A referred customer clicks the unique link, gets redirected to the merchant's site, and completes the desired action — usually a purchase or signup.
The merchant tracks these conversions and rewards the referring affiliate for each successful referral with a commission.
Affiliate marketing helps merchants expand their reach, generate more sales, and only pay when there's a conversion. For affiliates, it presents an opportunity to monetize your audience and content without needing to handle product fulfillment, customer support, or payment processing.
As an affiliate marketer, here are some of the ways you can earn commissions:
Cost-per-sale: Get paid for every customer that makes a purchase from the merchant's site through your link. This is the most popular and lucrative affiliate marketing model.
Cost-per-lead: Earn commissions when you generate leads like newsletter signups or submitting contact forms.
Cost-per-click: Get paid whenever someone clicks on your affiliate link, regardless of whether they convert or not. This isn't as profitable but can help grow your earnings faster.
Cost-per-mille (CPM): Also known as cost-per-thousand (CPT), this model pays you for every 1,000 impressions your promotional content generates. Common with display advertising.
The great thing about affiliate marketing is that you can partner with multiple merchants in the same niche and earn commissions from different brands simultaneously. There are no exclusivity restrictions like some other marketing models.
Now let's look at some of the major benefits of affiliate marketing:
Why Affiliate Marketing is a Lucrative Online Business Model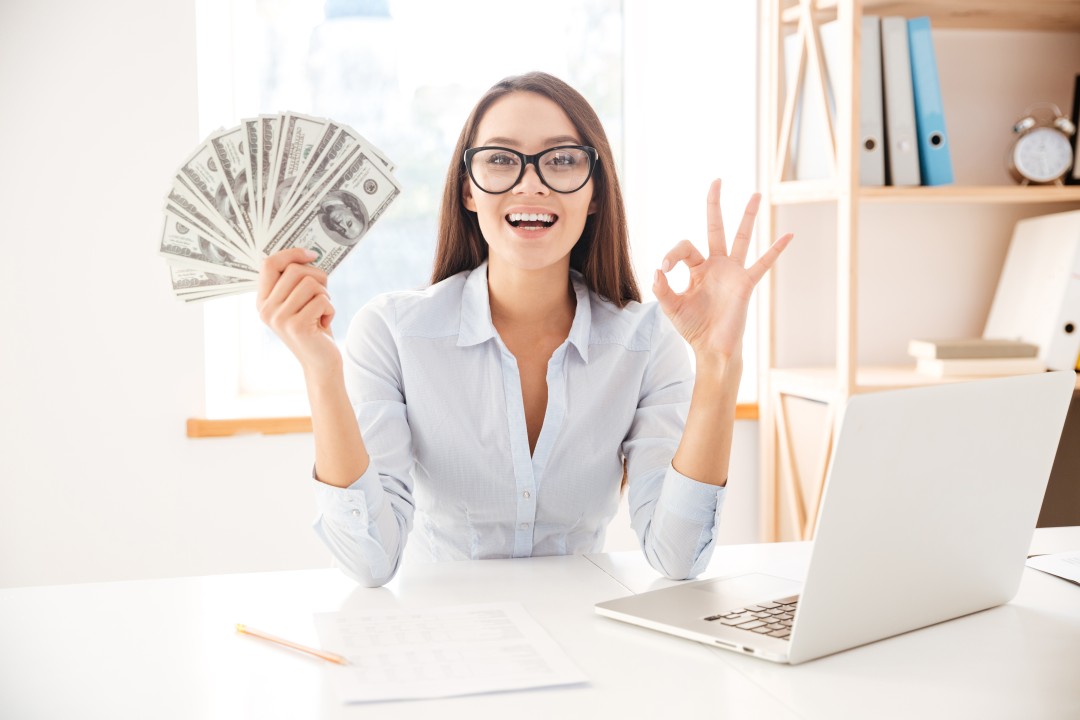 Affiliate marketing presents significant advantages that make it a profitable channel for online businesses:
1. Low Barrier to Entry
Unlike other monetization models that require huge upfront investments, affiliate marketing has a relatively low barrier to entry. You don't need to create your own products or online store to get started.
With zero infrastructure costs, affiliate marketing provides an accessible income stream even at low volumes. You can start small, even with just a blog, Instagram account, or YouTube channel with a modest following.
Building an audience and promoting affiliate products to them is much easier than manufacturing your own goods. Once your following grows, you can scale up your promotional efforts to drive higher conversions and boost your affiliate income.
2. Cost-Effective for Merchants
For brands, affiliate marketing provides a scalable and cost-effective customer acquisition strategy. They only pay affiliates after the desired conversion takes place, whether it's a sale, lead, or other action.
Merchants can spread brand awareness to a wider audience without upfront advertising expenses. By paying affiliates on a performance basis, brands can ensure their promotional costs result in guaranteed growth.
The sales commissions businesses pay to affiliates are significantly lower than other marketing channels like PPC, social media ads, or hiring an in-house sales team. Affiliate marketing provides brands greater return on investment (ROI).
3. Synergistic Value for Both Parties
Affiliate marketing strengthens the synergy between brands, publishers, and customers. It allows publishers to monetize their platforms at no extra cost to their audience. Brands get cost-efficient promotion that increases reach and conversions.
For customers, affiliate marketing helps them discover new products and makes the shopping experience seamless. Publishers can guide their audience to the affiliate products they feel would best serve the users. This builds greater trust and loyalty.
The pay-for-performance model ensures incentives are aligned for all parties involved, creating a true win-win-win value exchange.
4. Global Reach
Affiliate marketing enables businesses to tap into a global partner network. Instead of trying to reach international customers on their own, brands can leverage the expansive reach of affiliate marketers worldwide.
As an affiliate, this allows you to capitalize on audiences across different demographics and geographies. You can become part of a brand's global marketing efforts, driving conversions in untapped markets.
The ability to build diverse affiliate partnerships grants merchants access to localized marketing insights as well. This facilitates better targeting and higher conversions across global markets.
5. Performance-Based
Unlike other marketing channels, affiliate marketing is entirely performance-based. Merchants don't pay anything until affiliates drive the conversions they're looking for.
The pay-for-performance model ensures efficient use of promotional budgets for brands. Affiliates also don't get paid until they deliver actual results. This motivates marketers to refine their promotional strategies continuously.
With accurate tracking and attribution, the performance-centric nature of affiliate marketing results in better optimization and higher ROI for both brands and affiliates.
6. Data-Driven Tracking
Sophisticated tracking and analytics are central to the success of affiliate marketing. Merchants can track exactly where sales are coming from, down to the source and affiliate partner who drove it.
This enables precise measurement of what's working so brands can double down on high-performing partnerships and campaigns. Affiliates likewise gain access to data that helps them optimize their efforts to maximize commissions.
The data-driven approach of affiliate marketing empowers businesses to spot trends, gain insights, and create better alignment with their most valuable partners.
7. Recurring Revenue Stream
While affiliate commissions are generally one-time payments, smart affiliate marketers construct funnels that generate recurring revenue.
This may involve promoting subscription products, memberships, online courses, or other recurring-billing offerings.
Successful affiliates optimize their promotional process to increase customer lifetime value (LTV). This provides a dependable, long-term income stream beyond one-off sales commissions.
Building an audience that trusts your recommendations also sets you up for repeat sales and commissions. Loyal followers will keep coming back to your affiliate links for future purchases.
How Does Affiliate Marketing Work? Breaking Down the Process
Now that we've looked at why affiliate marketing is such an impactful model, let's break down how the process works from start to finish:
Step 1 – Merchant Offers an Affiliate Program
The process begins with a merchant creating an affiliate program to enlist marketers who will promote their products. They provide resources like banner ads, text links, product images, promo codes, and commission rates.
The merchant also develops a mechanism to track referrals and sales from affiliate channels accurately. Robust analytics are vital to ensuring proper attribution and commission payments.
Leading affiliate platforms make it easy for brands to set up and manage affiliate programs, generate affiliate links, and connect with publishers worldwide.
Step 2 – Publisher Joins the Affiliate Program
Next, publishers sign up to partner with the merchant as an affiliate marketer. Each accepted affiliate receives a unique referral link or ID to track traffic and conversions driven by their marketing efforts.
Signing up is free, and affiliates have complete flexibility in how they promote the merchant's products to their audience. Top affiliate programs provide useful resources to make promotion easier.
Step 3 – Affiliate Promotes Products
Once signed up, affiliates can begin promoting the merchant's products in various ways, such as:
Content marketing: Writing blog posts and guides recommending the affiliate products.
Paid advertising: Running PPC or social ad campaigns with affiliate links.
Email marketing: Sending promotional emails and newsletters to email subscribers.
Influencer marketing: Affiliates with large social followings showcase and recommend the products.
SEO: Ranking affiliate links on search engines for relevant product keywords.
Reviews: Creating video reviews or podcasts discussing the products.
There are limitless options for how affiliates drive traffic and refer customers to the merchant. Creativity is key to devising high-converting promotions.
Step 4 – Customer Clicks Affiliate Link
When a reader, follower or potential customer engages with the affiliate's promotional content, they can click the affiliate link to visit the merchant's website.
The visitor gets redirected through a tracking link that tags the affiliate who referred the traffic before sending them to the destination product page.
This tracking integration records important analytics like click-through and conversion rates to attribute conversions accurately.
Step 5 – Customer Takes a Desired Action
Once on the merchant's site, the referred visitor may make a purchase or complete another conversion goal defined by the program. This could be signing up for a newsletter, downloading a whitepaper, filling a lead form, or other desired action.
When the referral converts, the merchant's tracking links credit the referring affiliate who sent that customer activity.
Step 6 – Affiliate Gets Paid Commission
After a successful referral converts on the merchant's site, the affiliate earns their commission payout. This can be a percentage of the sale amount, fixed fee, or based on another conversion model.
Merchants specify commission structures in their affiliate program terms. Affiliates can check their analytics dashboard to track exactly how much they've earned from each promotion.
Recurring affiliate payouts continue as long as the referred customers make repeat purchases or convert on other affiliate offers.
This streamlined process continues as affiliates drive more conversions with their promotions. Reputable merchants ensure tracking is accurate and affiliates get paid for each referral consistently.
So in summary, affiliate marketing creates a shared success model between brands and publishers focused on generating measurable conversions from promotional efforts.
Now let's explore the different types of affiliate marketing and models marketers use today…
Types of Affiliate Marketing Models
There are several structures and models for how the affiliate marketing process can work:
1. Single-Tier Programs
This is the most common and straightforward type of affiliate program. It involves two parties – the merchant and publisher.
In a single-tier program, affiliates directly promote a merchant's products. They earn a commission on qualified sales or leads generated from their marketing efforts.
Single-tier programs work best for affiliate beginners, bloggers, and niche site owners looking to monetize their platform with affiliate partnerships.
2. Two-Tier Programs
In two-tier affiliate programs, affiliates can recruit other affiliates into their network. This creates a two-level commission structure.
The first tier affiliates who directly partner with the merchant are referred to as publishers. When they refer other affiliates, these are known as sub-affiliates.
Sub-affiliates earn commissions from their own efforts in promoting the merchant. The original publisher also earns an override bonus or percentage of their referred affiliates' earnings.
Two-tier programs provide higher earning potential for affiliates who build and manage their own affiliate network. But sub-affiliates also get ongoing support and promotional assets from the referring publisher.
3. Multi-Tier / Multi-Level Programs
In more complex multi-tier programs, there are several levels of affiliates organized into a multi-level referral and commission structure.
Top-level affiliates recruit second tier partners who recruit third tier affiliates, and so on. Affiliates earn overrides based on conversions from their direct referrals as well as indirect sales from lower tiers of affiliates.
While these multi-tier networks can drive substantial earnings, they require affiliates to focus heavily on recruitment and team management versus just converting sales.
4. Residual Income Programs
Residual affiliate programs pay out commissions as long as the referred customer continues buying from the merchant. This creates a long-term income stream beyond the initial referral.
Examples include subscription products, SaaS services, insurance policies, or other renewable purchases the customer makes over time. Affiliates earn residual payouts over the lifetime value of each referral.
Recurring commissions present a highly lucrative model for affiliates. But they require promoting products with built-in continuity, membership, subscription, or renewal processes.
5. Pay-Per-Call Programs
In pay-per-call affiliate models, affiliates get paid for referring phone calls instead of website conversions.
Visitors who click an affiliate link are redirected to a tracking phone number managed by the merchant or an affiliate network. The affiliate earns commissions when referred users call that phone number.
Pay-per-call works for more voice-driven industries like legal services, HVAC, healthcare, insurance, real estate, and home services. Phone conversions are easier to track than in-person sales.
This model focuses on quality over quantity, paying affiliates only for high-intent leads ready to talk to a sales rep and convert.
Now that we've covered the main types of affiliate programs, let's look at the best affiliate marketing networks…
Top 12 Affiliate Marketing Networks to Partner With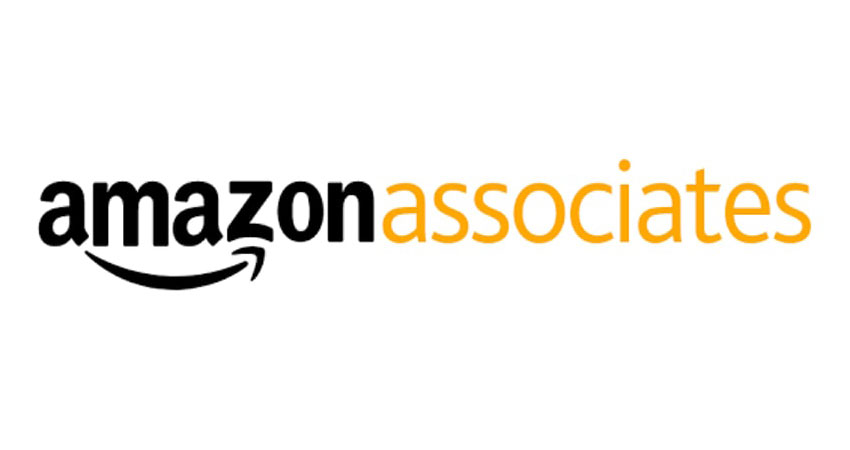 Here are the most powerful affiliate marketing networks for businesses looking to launch lucrative affiliate programs or join one as a publisher:
1. Amazon Associates
As one of the largest affiliate programs worldwide, Amazon Associates is a great choice for beginners to earn commissions promoting products in the Amazon marketplace.
Highlights
Huge selection of products and categories.
High conversion rates – Amazon's reputation drives sales.
No minimum traffic or sales requirements.
Global program open to affiliates worldwide.
Amazon provides text links, banner ads, and reporting tools to help affiliates drive conversions effectively. With over 197,000 members, Amazon Associates enables marketers to tap into their brand and built-in audience.
2. ShareASale
Founded in 2000, ShareASale operates as an affiliate network with over 4,000 merchant programs and 2.5 million affiliate partners.
Highlights
Flexible support for different commission models like CPS, CPA, CPC, etc.
Offers recurring commissions for subscription products.
Provides marketing tools and advice to affiliates.
No activation fee or minimum payout threshold.
ShareASale manages payments, compliance, and tracking. This makes it easy to partner with multiple brands across different niches as an affiliate.
3. CJ Affiliate
Formerly known as Commission Junction, CJ Affiliate by Conversant is one of the largest and oldest affiliate marketing networks.
Highlights
Over 8000 advertisers across diverse industries.
Access to exclusive deals with top brands.
Robust affiliate management platform.
Affiliate training programs and marketing assets provided.
CJ Affiliate offers deep affiliate program insights, real-time reporting, and simplified payment processing for over 158,000 affiliates worldwide.
4. Rakuten
Rakuten's global affiliate network comprises over 90,000 publishers monetizing across 30 different product categories.
Highlights
No website or following required to get started.
Access to big brand affiliate programs.
Offers cash back options to provide value to consumers.
Exclusive high-paying deals and bonuses.
Rakuten helps affiliates create loyalty programs, search ads, and influencer campaigns optimized for high ROI.
5. Impact
Impact is an established partner management platform providing affiliate, influencer, and partnership automation to grow revenue from referral programs.
Highlights
Partnerships with leading brands like Shopify, Hellofresh, Levi's, and Intercom.
Dedicated support to maximize publisher potential.
Robust affiliate management and fraud protection.
Customized commission models.
Impact's innovative platform scales revenue through automation and optimization between brands and their affiliate/influencer networks.
6. Pepperjam Network
As a leader in performance marketing, Pepperjam drives revenue growth through affiliate, influencer, and loyalty program management.
Highlights
Optimized full-service partnerships for leading brands.
Fast approval and onboarding for affiliates.
Multi-channel growth strategies beyond affiliate marketing.
Omnichannelaffiliate solution suite for enterprise brands.
Pepperjam partners make an average of $4.72 for every $1 spent in the network, exemplifying the growth potential with their partnerships.
7. VigLink
VigLink utilizes AI to convert existing website links into revenue generating affiliate links with relevant merchant partners.
Highlights
Monetize existing website content and links automatically.
Don't need to join an affiliate program thanks to automated affiliate partnerships.
AI technology scans pages and hyperlinks to identify monetization opportunities.
Works with over 30,000 retailers and merchants globally.
For publishers looking for a hands-off approach, VigLink makes monetization easy by turning your links into commissions.
8. eBay Partner Network
The eBay Partner Network provides customized programs to help affiliates drive traffic to eBay and earn commissions on referred transactions.
Highlights
Promote auctions, classifieds or specialty shop inventory on eBay.
Commission rates up to 70% percent for some verticals.
Access to creative assets and marketing toolkits.
Dedicated affiliate managers provide support.
EBay's extensive inventory makes them a prime merchant to partner with for publishers in related verticals.
9. AvantLink
AvantLink offers technology, tools, and insights to help affiliates promote over 200 top brands across 90,000 products on its platform.
Highlights
Simplified reporting and attribution.
Customizable tools and marketing collateral.
Exceptional affiliate support and training.
Full API capabilities for technical integration.
Whether starting out or running an established affiliate site, Avantlink provides the platform to maximize earnings.
10. FlexOffers
With over 20 years of affiliate marketing experience, FlexOffers provides optimized programs to scale revenue.
Highlights
5000+ affiliate programs across multiple verticals.
Customizable commissions and tracking.
Built-in anti-fraud technology.
Experienced account management.
FlexOffers focuses on flexibility, performance, and partnership success throughout the affiliate process.
11. Tradedoubler
Based in Europe, Tradedoubler partners with brands in over 180 countries and has delivered over $2 billion in sales.
Highlights
2,200 active campaigns in categories like finance, travel, fashion, health, and more.
Real-time performance optimization.
Multichannel tracking solutions.
Dedicated regional support for affiliates.
For globally minded affiliates, Tradedoubler opens up partnerships across markets worldwide.
12. Everflow
Everflow's performance marketing platform enables some of the world's top brands to scale affiliate partnerships.
Highlights
Proprietary machine learning and business intelligence.
Optimized partnerships across multiple verticals.
Custom reporting and robust payout structure.
One-on-one support and optimization from affiliate experts.
Everflow facilitates timely payments and provides the analytics to drive rapid growth as an affiliate partner.
This covers the major networks, but hundreds of other great affiliate programs are available through consolidation platforms like Awin, ClickBank, and others. As an affiliate marketer, the key is choosing merchant partners aligned with your niche and audience interests.
Now let's explore the pros and cons of affiliate marketing to see if it's the right fit for you.
Pros and Cons of Affiliate Marketing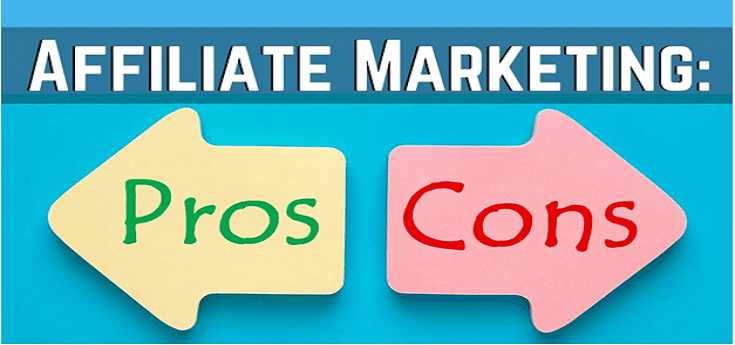 Like any business model, affiliate marketing comes with its own set of advantages and disadvantages. Assessing the pros and cons will help determine if this income stream suits your goals as a marketer.
The Pros of Affiliate Marketing
Little to no upfront investment: Affiliate marketing has very low startup costs. You don't need paid advertising or to create your own info products to get started.
Earn passive income: Affiliates can monetize existing content or build an asset portfolio that generates commissions passively over time.
Unlimited earning potential: With the right strategy, there's no limit to how much you can scale affiliate income as your referrals and prominence increases.
Be your own boss: Affiliates enjoy complete autonomy and flexibility in how they work. You can be a solopreneur or gradually build out a team managing your affiliate assets.
Cost-effective for merchants: For brands, affiliate marketing only requires paying partners for actual conversions generated, creating a highly accountable advertising channel.
Data-driven optimization: Robust reporting provides insights to refine promotional strategies for better conversion rates and earnings for affiliates.
Build relationships: The partnerships formed help affiliates get to know products intimately so they can better educate their audience.
Global opportunities: Affiliate programs provide the ability to tap into markets worldwide and remove geographical restrictions.
**Recurring revenues:**Affiliates can maximize lifetime value through residual affiliate programs that pay long-term commissions.
The Cons of Affiliate Marketing
Commissions are small initially: When starting out, affiliate income may only generate supplemental revenue before it builds up.
Need traffic to earn: You have to build an audience before you can monetize through affiliate marketing. This requires consistent effort and promotion.
Reliant on merchants: Any changes the advertiser makes to their products or commissions structure directly impacts your revenue.
Tracking issues: Poor attribution or cookie lifespan settings can result in missed commissions and lack of clarity into what's working.
Low acceptance rate: Getting approved for top affiliate programs can be difficult as a beginner with no traction or sales history.
Scaling is challenging: While earnings potential is high, actually growing affiliate income to significant levels requires considerable expertise.
Limited control: You don't have much control or say in the products/brands you partner with as an affiliate.
Assessing these pros and cons will help determine if you should pursue affiliate marketing, either as a business model on its own or as part of a larger online business strategy.
Now let's explore the most essential factors for success with affiliate marketing.
Key Elements for Affiliate Marketing Success
Certain factors determine how much income potential exists in affiliate marketing and how likely you are to succeed:
1. Niche Selection and Audience Size
Choosing a profitable, unsaturated niche provides the frontend opportunity. The larger the audience you can build and promote affiliate offers to, the greater your potential earnings.
Researching niche profitability and compiling emails or social followers in that niche builds the foundation to monetize through relevant affiliate partnerships.
2. High-Converting Affiliate Offers
Promoting offers with the best conversion rates like 30%+ rather than less than 10% makes a huge difference. Analyze past performance data to pick offers most likely to convert your traffic.
3. Cost Per Acquisition (CPA) Rates
Higher paying affiliate programs will compensate you better for each conversion. Maximizing your CPA rates with merchants increases income from each referral.
4. Lifetime Customer Value
Focus on driving recurring customers rather than one-off sales. Residual income affiliate programs pay you for the entire lifecycle a referred customer remains with the merchant.
5. Overall Traffic Volume
Generating more qualified visitors to your affiliate links increases the number of conversions and boosts revenue. Growing traffic is essential to scaling affiliate earnings.
6. Conversion Optimization
Beyond raw traffic numbers, the conversion rate is crucial. Optimizing landing pages, user experience, and high-intent traffic sources results in more customers and commissions.
With the right strategic approach, affiliate marketing can become a highly profitable channel. Now let's explore tips and best practices to maximize your success and income potential as an affiliate marketer.
Affiliate Marketing Tips: How to Succeed as an Affiliate
Here are some top tips to help you get started in affiliate marketing and optimize your performance:
Choose a niche you're passionate about
Picking a niche you enjoy makes it easier to become an expert in recommending relevant affiliate products without getting burnt out. Let your interests guide the types of partnerships you pursue.
Research products that resonate with your audience
Take time to research products you feel would best serve your audience based on their needs and interests. This results in more authentic recommendations and higher conversions.
Provide honest value
Don't overly hype products. Focus on providing honest, balanced reviews and recommendations your audience finds helpful rather than pushing hard sells. Establishing trust earns long-term dividends.
Test different affiliate models and rates
Try out different commission structures like CPS, CPL, etc to determine what generates the highest returns based on your promotional tactics.
Build an email list
Email marketing proves highly effective for promoting affiliate offers. Capture emails on your site to build an audience to market to directly and repeatedly.
Diversify traffic sources
Don't rely solely on SEO or paid ads. Utilize a mix of organic and paid channels including email, social media, and influencers to maximize reach.
Create content around buyer keywords
Target informational keywords potential customers use while researching purchases to get your affiliate links in front of high-intent visitors.
Be patient
It takes time to build authority and see returns in affiliate marketing. Be patient and focus on providing long-term value rather than trying to get rich quick.
Track and test performance
Use affiliate links with UTM parameters to track performance data like conversion rates for each marketing channel in your analytics.
Promote URLs directly
Short affiliate links are easy to display across channels. Optimize landing pages with your affiliate URLs prominently to increase clicks and conversions.
Don't spam links
While promoting affiliates links is key, avoid spamming them all over with no context. Make sure links are relevant and naturally woven into content people find useful.
This covers the essential tips and best practices for getting better results with affiliate marketing. Next let's look at some common affiliate marketing mistakes to avoid as a beginner.
Affiliate Marketing Mistakes to Avoid for Beginners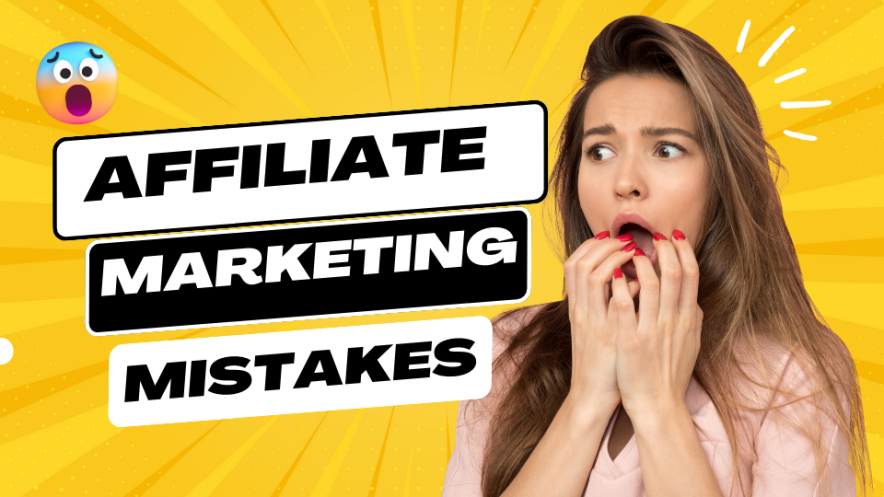 Here are some common affiliate marketing mistakes beginners should avoid:
1. Choosing the wrong niche
Picking a niche with little revenue potential or just to chase money often leads to failure. Choose a niche aligned with your passion and interests to become a domain expert.
2. Not building trust
If you just hard sell without establishing authority and trust, readers will disengage. Focus on providing value through helpful content first and foremost.
3. Using spammy promotional tactics
Avoid spammy incentives, pop-ups, and aggressive calls to action. Respect your audience and opt for relevant, non-invasive promotions.
4. Not disclosing affiliate links
Failing to disclose affiliate links and relationships is unethical. Be upfront when promoting affiliate products to build reader trust.
5. Linking to irrelevant products
Don't promote random products just to monetize. Only recommend relevant affiliate products your audience would find useful based on context.
6. Relying on a single traffic source
Diversify your traffic beyond just organic or paid channels. This minimizes risk and expands promotion opportunities.
7. Not optimizing landing pages
Ensure your landing pages make it easy for visitors to convert once they click your links. Don't send them to irrelevant or confusing destinations.
8. Using cloaking or cookie stuffing
Unethical tactics like misdirecting clicks or stuffing cookies will get you banned. Always adhere to affiliate program policies.
9. Choosing the wrong programs
Signing up for low commission affiliate programs or those that restrict you won't yield significant income. Partner with reputable, high-paying advertisers aligned with your niche.
10. Expecting overnight success
Give yourself time to learn, build authority and increase conversions. Affiliate marketing rewards patience and consistency. Avoid chasing quick wins.
While mistakes happen, avoiding these common pitfalls will help you develop an ethical, sustainable affiliate marketing approach powered by trust and value.
Next let's examine top affiliate marketing networks so you can start applying as a publisher.
Top Affiliate Marketing Networks & Programs to Join
Here are some of the best networks and individual affiliate programs to consider joining:
1. Amazon Associates
The Amazon Associates program gives you access to the world's largest online retailer. You can promote millions of products and earn up to 10% commission on each sale. With unlimited earning potential and no complicated application process, Amazon Associates is great for beginners.
Commission rate: Up to 10%
Cookie duration: 24 hours
Notable features: Recurring commissions, extensive product selection, trusted brand
2. ShareASale
Boasting over 4000 merchant affiliate programs across many verticals, ShareASale simplifies the management process so you can partner with multiple brands through a single platform. The network has a $50 minimum payout but provides extensive affiliate resources and support.
Average commission: $150 per sale
Cookie duration: 30-90 days
Notable features: Recurring commissions, lifetime cookies, performance-based programs
3. ClickBank
ClickBank focuses heavily on digital products like ebooks, software, and online courses. This makes it ideal for affiliates focused on content marketing. ClickBank's extensive marketplace and $50 minimum payout makes it accessible for beginners.
Average commission: 50-70% on digital products
Cookie duration: 60 days
Notable features: Extensive digital marketplace, pays weekly
4. eBay Partner Network
The eBay Partner Network allows you to earn commissions promoting auctions and inventory on eBay. They offer competitive commission rates thanks to their extensive buyer base, along with data feeds, APIs, and reporting to help you optimize promotions.
Average commission: Up to 70% for some categories
Cookie duration: 24 hours
Notable features: Massive buyer audience, top converting categories like fashion, collectibles
5. FlexOffers
With over 20 years of affiliate marketing experience, FlexOffers provides optimized affiliate programs to drive conversions across verticals like online dating, entertainment, retail, subscriptions, and more.
Average commission: 8-12% for dating, 25-50% other verticals
Cookie duration: 45 days
Notable features: 5000+ affiliate programs, lifetime cookies, proprietary anti-fraud tech
6. Pepperjam Network
As a top performance marketing company, Pepperjam drives significant revenue through affiliate, influencer, and loyalty program management. Their proprietary platform simplifies campaign management and attribution.
Average commission: 25-50% for most programs
Cookie duration: Up to 60 days
Notable features: Enterprise affiliate solutions, average order value over $200
7. Rakuten
Formerly known as Ebates, Rakuten has paid out over $1 billion in commissions. Choose from thousands of big-name affiliate programs while leveraging cash back promotions and loyalty solutions for higher conversion rates.
Average commission: 8-20%
Cookie duration: 30 days
Notable features: Big brand partner programs, cash back and loyalty incentives, coupons
8. VigLink
With VigLink, you don't have to apply to join affiliate programs. Their technology automatically turns existing links on your site into affiliate links you get paid from without extra work.
Average commission: Varies by merchant
Cookie duration: 365 days
Notable features: Works with over 30,000 merchants, global support, easy integration
9. Impact
Impact provides comprehensive affiliate management software and services to grow revenue through partnerships. This makes it easy to tap into their portfolio of leading brand affiliate programs.
Average commission: 25-30%
Cookie duration: 45 days
Notable features: Built-in fraud protection, recurring payouts, real-time tracking
10. Tradedoubler
This European affiliate network provides a global reach with affiliate programs across Europe, Asia, and South America. If you want to tap into international affiliate opportunities, Tradedouble grants you access to over 2000 merchant campaigns.
Average commission: 8-12% average
Cookie duration: 60 days
Notable features: International affiliate programs, multi-channel tracking, lead generation opportunities
Signing up with a combination of large affiliate networks and applying directly to relevant standalone affiliate programs is the best approach. This provides the most partner options tailored to your niche and audience.
Now let's explore the types of affiliate sites and content you can leverage to start monetizing your audience.
Types of Affiliate Websites and Content to Promote Affiliate Products
Here are some of the most popular and effective types of affiliate websites and content formats you can leverage to promote products as an affiliate:
1. Product Review and Comparison Websites
Build niche sites focused on providing detailed, honest product reviews like best home security systems, web hosting services, recipe ingredients, pet supplies, etc. These sites aim to compare the pros and cons of different products to guide purchase decisions.
2. Coupon and Deal Websites
Offering discounts and promo codes for products appeals to value-driven buyers. Build a deals website highlighting current sales, discounts and special offers on popular affiliate products.
3. How-To Websites
Creating niche websites, YouTube channels or blogs built around "how-to" advice allows you to recommend relevant gear, tools, apps, or services needed to accomplish specific activities. Think DIY, hobbies, health, etc.
4. Listicles
List-based articles like Top 10 Product X Reviews or 5 Best Y for Z are highly shareable across the web. These types of affiliate content are easy to update and optimize for buyer keywords.
5. Loyalty and Cash Back Sites
Build a site that curates offers, cash back opportunities, loyalty programs, coupon codes, and other incentives to get the best deals on purchases from top retailers through affiliate links.
6. Amazon Influencer Storefronts
If promoting lots of Amazon products, create an Amazon Influencer page that curates and organizes merchandise you recommend under different categories for followers.
7. Info Product Mini-Sites
These are niche-specific landing pages that highlight a specific affiliate offer like an online course, supplement, or software widget. The focus is providing enough info to entice clicks.
8. Shopping Guide Content
Publish buying guides, gift guides and shopping content customized for your audience and seasonality so you can recommend relevant affiliate products matching different interests and use cases.
9. Daily Deals Email Newsletters
Curate daily deals and offers for subscribers where you pitch relevant affiliate products and specials through email. This builds anticipation and opens to drive clicks.
The content model needs to make affiliate links fit seamlessly. Test different website formats and content that resonates with your audience to determine the optimal approach.
Next let's explore the most effective affiliate marketing strategies to maximize your commissions.
Affiliate Marketing Strategies to Increase Your Commissions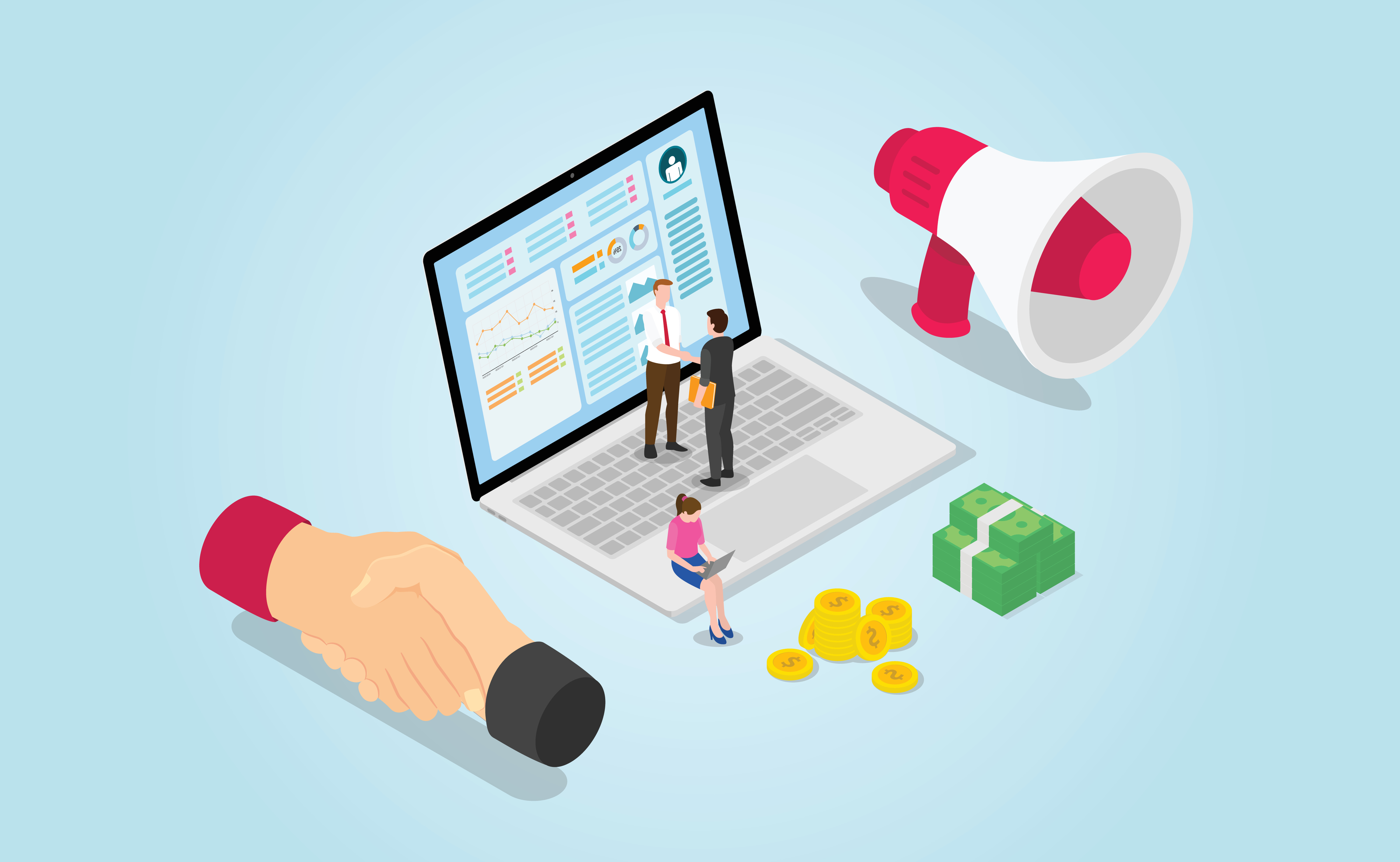 Here are the top affiliate marketing strategies to focus on to really ramp up your commissions:
1. Create Dedicated Landing Pages
Ensure visitors clicking your affiliate links land on conversion-optimized pages that compel action, not just generic homepages. Dedicated landing pages with relevant affiliate offer info generate higher commissions.
2. Promote High Ticket, Recurring Affiliate Products
Earning 10% commissions on a $10 product isn't going to move the needle. Find higher priced offerings like courses or software that pay at least $50+ to maximize your income. Promote products with residual commissions.
3. Build an Email List
Email marketing gives you recurring touchpoints with subscribers to promote affiliate offers. This converts better than trying to monetize anonymous website visitors. Offer an opt-in incentive like a discount or exclusive content to build your list.
4. Create Reviews Comparing Top Affiliate Products
Don't just promote a single product. Compare the top 2-3 recommendations so readers can see an objective contrast of their options to make an informed purchase through your links.
5. Boost Affiliate Earnings with Paid Ads
Invest a portion of your commissions into paid ads to scale traffic. Retarget site visitors and remarket to email subscribers. The extra exposure means more conversions.
6. Promote Affiliate Links on Social Media
Share your affiliate links across social channels like Pinterest, Instagram, Facebook, YouTube etc. Leverage influencer marketing by reaching out to microinfluencers in your niche to help promote your affiliates too.
7. Use Affiliate Links in Video Descriptions
Upload videos to YouTube reviewing or demonstrating products. Place affiliate links in the video description so viewers can conveniently click to purchase after watching.
8. Offer Coupons and Discounts
People love saving money. Offer promo codes and coupon codes for affiliate products that provide an immediate financial incentive to buy through your specially tracked links.
9. Create Dedicated Resources Pages
Build dedicated "resources" pages that showcase affiliate products tailored to different categories or use cases so visitors can easily find relevant recommendations.
10. Don't Rely on One Channel
Employ a cross-channel promotion strategy across organic content, social media, email, PPC, retargeting, influencers and more to maximize affiliate link exposure.
Experiment with different strategies to determine which resonate best with your audience and achieve the highest conversions. This will inform where to focus your main affiliate marketing efforts.
Now let's examine how to track affiliate link performance to gain insights for improvement.
Tracking Affiliate Links for Maximum Commissions
Proper tracking is crucial to succeeding with affiliate marketing. Here are tips to track links effectively:
Use Campaign Parameters
Append your affiliate links with UTM tags or other campaign parameters. This isolates performance by traffic source in your analytics for clearer attribution.
Track Conversions Separately from Merchants
Beyond merchant dashboards, track conversions on your website using analytics software or plugins. Having duplicate tracking provides checks and balances.
Leverage Link Shorteners
Shorten links using Bitly or similar tools to clean up lengthy affiliate URLs. Short links are easier to share across channels. Link shorteners provide click data.
Test Different Affiliate Links
Create distinct affiliate links for each campaign like email, social, PPC etc. Testing which links perform best helps you double down on the top drivers.
Track Lifetime Value, Not Just First Sale
Seeing the lifetime value of referred users that purchase again and again is more indicative of program success than one-off sales.
Review Attribution Frequently
Don't just set it and forget it. Check attribution models regularly to ensure proper crediting as new channels and partnerships get added.
Document Performance Data
Record performance like click rates, conversion rates, average order value, commissions and ROI in a spreadsheet. Tracking long-term data reveals trends.
Ask for Feedback and Reports
Provide feedback to merchants on what's working and where their program can improve. Request reports if needed data is unavailable. Communication is key.
Consistent tracking, optimization and management of your affiliate program performance moves the needle on revenue.
Next let's explore some important factors in maintaining affiliate marketing success long-term.
Maintaining Affiliate Marketing Success in the Long Run
Here are key factors that help sustain affiliate marketing success over the long haul:
Diversify Your Promotional Channels
Relying solely on SEO or paid ads is risky. Promote through a mix of website content, email, social media, retargeting ads, influencers and more.
Build a Team
As your affiliate operation grows, bring on freelancers, agencies or in-house team members to help create content, manage partnerships and free your time.
Watch for Burnout
Affiliate marketing can be demanding. Take time off, alternate niche focuses, hire help and avoid burnout so you stay motivated for the long run.
Keep Testing and Optimizing
Never get complacent. What works today might not tomorrow. Continually test new strategies and double down on what performs best. Optimization never stops.
Cultivate Merchant Relationships
Get to know affiliate managers. Provide feedback and ideas for improvements. Strong relationships with advertisers ensure support if issues arise.
Monitor Changes Closely
Stay on top of industry trends and policy changes that could impact programs. The ability to adapt quickly helps future-proof your business.
Research New Affiliate Programs
Rotate offers and partners over time to find fresh opportunities and avoid oversaturating one niche or program. New launches often convert well.
Expand to Multiple Affiliate Sites
Don't build just one asset. Create multiple niche websites and YouTube channels to diversify income streams for protection if one underperforms.
Success requires constant learning, testing and relationship building. Staying on top of affiliate marketing best practices ensures your efforts remain profitable for years to come.
Let's wrap up with a look at the future outlook for affiliate marketing.
The Future of Affiliate Marketing
Affiliate marketing has continued to grow and evolve over the past decade:
Spending on affiliate marketing is predicted to reach $8 billion by 2025 according to Business Insider Intelligence.
75% of brands now leverage affiliate partnerships as part of their broader marketing strategy based on Rakuten's 2021 affiliate marketing global survey.
86% of merchants surveyed by Rakuten plan to maintain or increase their affiliate marketing investment next year.
The partnership model of affiliate marketing builds stronger loyalty between brands, publishers, and consumers that translates to higher lifetime value.
The influencer explosion and rise of social commerce continues to expand the reach of affiliate marketing.
Improving tracking and attribution models provide better optimization opportunities.
Automation platforms are making affiliate program management and payouts more efficient.
The pandemic accelerating ecommerce and remote work fueled affiliate marketing adoption.
Affiliate marketing has cemented itself as an essential online customer acquisition model thanks to its performance-based nature, scalability, and synergistic value.
With more businesses moving online and looking to control advertising costs, the future outlook for affiliate marketing remains highly bullish in the digital economy. There has never been a better time to capitalize on this $8 billion industry.
Conclusion
If aligning incentives to create win-win partnerships appeals to you, affiliate marketing can provide immense value. It enables publishers to monetize their platforms through commerce without infrastructure costs or overheads associated with traditional online business models.
For merchants, performance-based affiliate partnerships grant access to turned marketing channels that only get paid on completed sales or actions. This results in a highly accountable advertising channel that scales revenues.
Consumers benefit from better exposure to helpful recommendations from publishers they know and trust.
In an increasingly crowded digital landscape, affiliate marketing helps brands expand their reach. For publishers and content creators, it provides monetization opportunities that enhance the value exchange with followers.
The barriers to entry are low. Anyone with an audience and influencer mindset can participate. The scalability is high for those who gradually expand their affiliate skillset and assets.
While affiliate marketing takes consistent work, there are abundant programs, networks and strategies covered in this guide to generate meaningful income both short term and over the long haul.
If leveraging recommendations to drive commerce sounds appealing, now is the time to get started with affiliate marketing. Just remember to provide genuine value, build trust, start small, and track everything.
So choose a niche you're passionate about, partner with aligning brands, and begin monetizing your influence by sharing products you love with your audience.